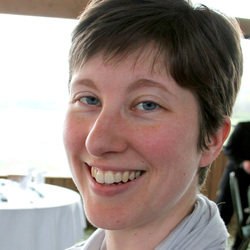 Chi-Town Multicultural Film Festival
presents:
Film Workshop Series (Vol. 1)
w/Brittany Alsot
Bio:
Brittany is a queer, feminist, anti-racist filmmaker focused on creating inclusive, empathetic working environments for the cast and crew. She believes in the healing power of storytelling and art that represents the outsider experience. She started her career in Seattle and now lives and works in her native Chicago.
Filmography:
"Tides" (2016) is a five-minute silent film exploring love, anxiety, and lust through dance. It was the official selection of Filmslang (Lexington), TWIST Queer Film Festival (Seattle), Pride Films and Plays' Queer Bits III (Chicago), and The Windy City Film Festival.
"A Meal With Dad" (2016) is a 15-minute short about family, memories, cooking, and our ability to heal. It was the official selection of Chi-Town Multicultural Film Festival, Chicago & Grand Rapids Feminist Film Festivals, Kashish (Mumbai), and the Indianapolis and North Carolina LGBT Film Festivals.
Date of Event:
August 26, 2017
Time of Event:
11:00am thru 12:00pm
Location of Event:
Chicago Bee Branch Library
3647 South State Street
Chicago, Illinois 60609
Filmmakers of all ethnic groups are welcome to attend.
Click link below to reserve your spot !!!!
cmff-presents-film-workshop-series-script-to-screen-with-brittany-alsot-tickets-36355523349
---