Sergio Gomez is a Chicago based visual artist and creative entrepreneur. He received a Master of Fine Arts degree from Northern Illinois University. Sergio's work has been subject of solo exhibitions in the United States, Italy, Mexico and Vienna. He has participated in numerous group exhibitions in Spain, Sweden, Cairo, London, Korea, Mexico and the US. His work can be found in private and public collections of the National Museum of Mexican Art, Brauer Art Museum, and the MIIT Museo Internazionale Italia Arte among other public and private collections.

Currently, Sergio Gomez is the owner & director of 33 Contemporary Gallery, Curator/Director of Exhibitions at the Zhou B. Art Center, contributor for Italia Arte Magazine, Art/Design faculty at South Suburban College, Creative Consultant for Idea Seat Marketing and Advertising, co-funder of the Art NXT Level Program and founder of Amplified Art Network. His weekly Artist Next Level podcast inspires and educates contemporary artists. Sergio has curated special projects for the Chicago Park District, ArtSpot Miami International Art Fair during Art Basel Miami (2013, 2014), National Museum of Mexican Art, and Expo Chicago (2014) among others.





---

Simeon Henderson grew up on the West Side of Chicago in a low income area where he overcame the odds of being labeled LD (Learning Disability) Although Simeon couldn't read he was determined to overcome this disability. His mother taught him the verse Philippians 4:13, "I can do all things through Christ who strengths me" with this Simeon not only overcame his learning disabilities when he attended Providence St. Mel High School where his English teach Mrs. Brannigan pushed him beyond his limits and taught him how powerful his brain was. Simeon's mother moved him out of the inner to a place he could survive and soar, He graduated from Streamwood High school. Simeon went to Elmhurst college, received his BA in Education and was in the top 4 in his class and Roosevelt University where he received his Master's in Educational Leadership. After a short lived Pro Football career he became a teacher and Chicago police officer. Now, as an actor and motivational speaker, Simeon has spoken at numerous graduations and has lead a number of Team building workshops in the educational field and in the business work force. Simeon stepped out on faith and pursued his passion of being an actor because he loves telling stories and helping people through the art of laughter and entertainment. Simeon moved to L.A and had to sleep in his car for 3 months because he was determined to not give up until he accomplished his goal of joining the Screen Actor's Guild union which he did, and now he has co-starred and been featured in national commercials, movies such as Barbershop 2, Chicago P.D, Empire, toured with Tyler Perry and he is now finishing his first Book "Through The Eyes Of A Man" Simeon focuses on doing great things for the city he loves because Chicago has shown him so much Love and support over the years and especially now. Simeon is now one of WCIU'S channel 26 new on air personalities for Tonight on the U. Simeon hopes to inspire other's to live their dreams. Also, this is Simeon's second year hosting CMFF.


---
---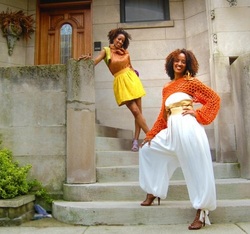 Double Stitch
is the brainchild of the multi-talented twin designers Erika and Monika Simmons. For over 10 years,
Double Stitch
has evolved from a collection of show stopping handmade crochet apparel, to The
Double Stitch Twins
, a brand that influences the rapid pulse of fashion for past, present and future crochet artists and admirers.
The
Double Stitch Twins,
have been featured on numerous television media outlets, including, "
The Real" Daytime Talk Show on Fox, "The Balancing Act", on LifeTime TV
, "
Knitting Daily"
and "
190 North"
on
ABC.
Crochet Today, Interweave Press
and
The Crafts Report magazines
,
have also found the twins fun crochet designs and business savvy craft endeavors, quite news worthy
.
The Double Stitch Twins
currently show and sell their wares at the
Hyde Park Handmade show
at The Promontory and have cherished their hometown partnership with
Macy's,
since the
Macy's Chicago
Designer Shop in 2006.
Since 2008,
The Double Stitch Twins
have authored 3 crochet pattern books entitled,
The Crochet Fashionista Workshop
and
Fashion Forward
with
Red Heart and Double Stitch: Designs for the Crochet Fashionista
with
Interweave Press.
The
unique style of the
Double Stitch Twins
is also featured in "
Crochet Red", Crocheting for Women's Heart Health
, by
Laura Zander and "Signature Styles", 20 Stitchers Craft their look,
from
Cresendoh
Publishing.
The Double Stitch Twins
were pleased to win the
Crochet Liberation Front's
coveted,
2011 Flamie Award
for
Best Crochet Designers Accessories
. The award further motivates the two fashionable crochet designers turned "Craft Celebrities", to keep pushing the fashion envelope as Crochet Designers & former Spokespersons for Industry leader,
Red Heart Yarn
by
inspiring Craft Consumers with free fashion forward crochet projects in the only way The
Double Stitch Twins
know how. With lots of style, tons of color and some sisterly banter along the way!
Learn more about the Double Stitch Twins at:
www.doublestitch.etsy.com
Twitter.com/doublestitchers
Instagram.com/doublestitchtwins
Facebook.com/DoubleStitch
Contact Information:
Public Relations:
jada@highstylemarketing.com
General inquiries:
doublestitchtwins@gmail.com
---